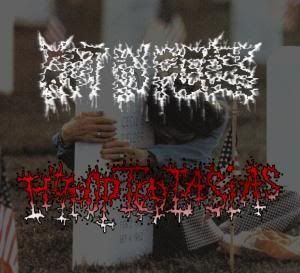 Tracklist
:
Rot in Pieces
1. Les cons-damnés 00:47
2. 2 Die 4 your Con3 01:13
3. Crie la vérité sur les murs 02:36
4. Yan osborne 01:14
5. Afterlife Murder 03:21
6. Cormier 00:30
7. McDollars 01:03
8. Until Death do us in Parts 02:34
9. Dis-le pas à personne 00:30
10. La parole et l'acte 04:51
11. Langue perdue 00:35
12. Le Bièrier 00:50
13. Manipulations 04:28
14. The Kill [Napalm Death] 00:14
15. The Hillside Stranglers [Dahmer] 01:18
Hypoptalasias
16.Johan Holocaust(2:44)
17.Unfortunate carnage of the worldwide economic war(1:42)
18.PMRC(0:45)
19.Hypopcrésie(1:17)
20.Rabid grannies(1:50)
21.Reflekt(1:56)
22.Pee on the wall (live)(4:28)
23.Stupid cops (live)(0:29)
24.Perynnées manson (live)(0:22)
25.PMRC (live)(1:34)
26.Burgaud got eyes (live)(0:18)
27.Titinus hearing (live)(1:02)
28.Human god flesh-man is dead (live)(0:29)
29.Johan holocaust (live)(1:41)
30.Rabid grannies (live)(1:37)
Total running time 48:20
Quebequois quartet Rot In Pieces play grind with a grotesque death metal twist, in love with all things creepy and deformed, that ought to be familiar to everyone who dabbled in disgusting, quasi-experimental, disharmonic (Orchestra[l]) metal. This was their first (split) release, the second and last one being a split with Agathocles that came out one year later. It's a blast, with swinish pronunciation, topped off with a classic cover of Napalm Death's "The Kill" and a Dahmer one, suggesting (along with the general sound of the bad and that split with Agathocles) a love for mincecore.
Yet we have Hypoptalasias bringing the grindessential blasts, caught up between a horde of zombies kept animate purely on Discordance Axis shots and the Brutality of Truth and God knows what other sorts of socially perceived defects. Most wonderful is how they finish their studio-recorded side (tracks before the live recordings I mean): "Reflekt", a chuggathon to chug-along to, and perhaps even a nod to the frustratingly honest "A Leaden Stride to Nowhere" (sure sounds like it). I won't play the role of a barely comprehensible biographer here seeing as I already did it
here
, but I ought to comment that the sound on this one triumphs over that Hypoptalasias / Denak split, a very understandable thing once you take into account that this one was released on CD.
An unfortunate download for the worldwide copyright war! (Mediafire)
I repeat, you can get most Hypoptalasias tracks from their
website
. What's that... Why am I posting this shit then? Because I'm posting the whole releases, that's why, other bands included. Hypoptalasias don't spend any time talking 'bout bullshit. I mean, they
really
like zombies and shit, so they point it out sometimes, but that's that. Really.