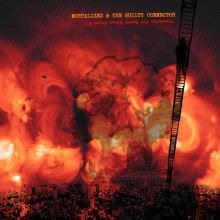 Tracklist
:
1. Babylon, Burning
2. Parallel
3. A Planet
4. Work For Ever
5. Home, Sweet Home
6. Beer Can
7. Untitled
Total running time 7:51
I remember when Burek of Terror Noise Audio (& the stochastic
Flying Teapot
) told me all excited about how he found some Mortalized / Guilty Connector collaboration on soulseek. My reaction was the only possible reaction, i.e. "Fuck yes," and you can add an exclamation mark to that. So it's been posted
over at TNA
for a while now, but the repost of such a beauty can only create the opposite of hurt + this is a thing comprised of the fluffiest, nicest Japanoise and Nippongrind meaning that about 99% of Cephscope readers will appreciate its form with earblood, earsweat, and eartears. I mean, from my experience. This is, in fact, not Concerto for Harsh Noise Grind #1 (like the title on TNA says, 'cause that one's an older three-song tape / later 3" CD), but the Concerto for Harsh Noise Grind #3 MCD! It is not really a split release, but a full-blown collaboration akin to some those new powerviolence ones that so many of you like to drool over. But there are more blastbeats here, so you ought to know the winner.
And don't embarass me, son(s & daughters), 'cause there'll be a greater number of (cyber)demons a-growlin' than the member count of the entire Satanic Hell Choir of (Death and) Slaughter employed for this very Concerto, and next thing you know I'll be posting Colemans, Coletranes, Dolphies, Jamals, Hills and Minguses.
Takafumi Matsubara for World President (Medifaire)
Anybody up for some noisy emoviolenza and shit? Oh and hey, you know that Japanese screamo band that took their name from a Converge song, Heaven In Her Farts?
Forgive me, but I needed to write that down.