Gate is a Japanese grind band. Plain fact considered, I understand that it is fairly questionable whether I should even continue writing, but humour me, or do this.
The buzzsaw duo (currently, that is, being a guitarist / vocalist + blastbeater, although basses were known to be slapped) hails from somewhere in the Tochigi Prefecture of Japan, the proper place to go for shrines and temples, with a total population around half the population of Croatia (how's that for a bloody obscure country? I mean, I certainly wouldn't know).

Back in 2008, Orfee posted their "Soon To Be Sodomized" EP, soon after I posted the still goddamn excellent three-way "Crushing the Grindcore Trademark" split comprised of Hutt, Noisear, and Gate here. In the comment section of the split (as you can see for yourself), some cool anonymous dude(ette) commendably left a link with more Gate material. The upload in question has since ceased to be, so I decided to re-up the joyous demos that had graced it. All in all, there's three of them, and not one is half bad.
To quote myself in a tad more eloquent fashion than two years ago: "If we chose to compare and pair, Noisear would be paired with Discordance Axis, while Gate would be paired with Assück. Yes, Gate's dissonant side does remind of early DxAx, but the overall sound is a wholly different, heavier, slower, simpler, pounding Japanese tremolo hell. That almost sounds like Corrupted or something, but Gate is grindcore, and grindcore is fast." That said, Ben from the tragically vanished blog Condensed Fresh (scanned setlists from gigs that took place in the land of the rising sun, all with relevant, awesome stories) mentioned how Gate bored his pants off in the comment section of that STBS EP post. I, on the other hand, would gladly shove Gate in place of, for example, the ever prolific Unholy Grave (ironically, a band that Gate covers on Demo no. 1, and a great band in its own right, numbering
21 relevant posts
on Cephalochromoscope) in the very interesting Battle of the Grind Bands over at
Grind & Punishment
, but I sure as hell haven't seen 'em play live.
Gate has been a grind band with a brutally strict blast-policy for quite some time now, so where's the

first

full-length release? Seriously.

Demo 1 (Mediafire)

Tracklist
:
1. Collapsed
2. Scars Remember
3. Torso
4. Humiliation
5. Hewhoisasshole[cut]blahblah (jeez, Gate...)
6. Anti-Terrorism (Unholy Grave cover)
7. Crux of Flagellant
8. Fundamental Human Condition
Total running time 11:10


Demo 2 - This is Fuckin' Grind (2001) (Mediafire)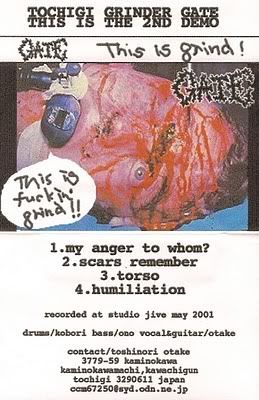 Tracklist
:
1. Scars Remember
2. Torso
3. My Anger To Whom?
4. Humiliation
Total running time 4:02


Demo 3 (Mediafire)

Tracklist
:
1. Radiant Arkham (Discordance Axis)
2. The Inalienable Dreamless (Discordance Axis)
3. Desperate
4. Fundamental Human Condition
5. Nadir
6. Emancipation of Yourself
Total running time 11:03
Check out the surf-grind on "Nadir" & the classically Gate way of covering "The Inalienable Dreamless."