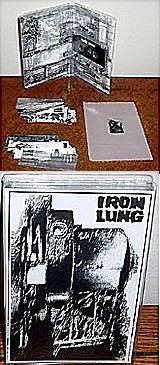 Tracklist:
1. Only Death
2. Untitled
3. Nails
4. Untitled
5. Bonesaw
6. Untitled
7. Modified For Arm Abduction
8. Untitled
9. Storage Unit
10. Untitled
11. Iron Lung
12. Untitled
13. Arc Lamp
14. Untitled
15. Cervical Laser
16. Untitled
17. Chest Assessment
18. Untitled
19. Placement Six
20. Untitled
Total playing time 19:01
The incredible Iron Lung stand-up comedy act! Most of the tape consists of comical bandmember & audience talk (this constitutes all the tracks tagged with "untitled"), briefly interrupted here and there by a fluffy blast of surgical powerviolence. If you thought about getting this one, forget about it. Limited to 100 copies, interesting and/or fucking awesome book-sort-of thing packaging, I hear. Recorded at a gig at Burnt Ramen Studios, Richmond CA, October of 2001. Released 2002, Enterruption Records.
NO BASS. (Mediafire)
That's right.