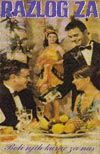 Tracklist:
1. Old Skul Stvar
2. Živiš Samo Jednom
3. Boli Njih Kurac Za Nas
4. Davidova
5. Kada Padaju Zvijezde
6. Na Kraju Priče
7. Jedinstvo, Prijateljstvo, Snaga
8. Emo Stvar
Total playing time 13:49
Razloga Za is a hardcore punk band with legendary status in the Balkans, though they've split up a while ago. Probably the most famous band to come out of Kutina, Croatia, even a "Tribute to Razlog Za" compilation with bands all over the place doing covers was released recently. Their music and lyrics had a undeniable positive strength, as they sang anthems to friendship and life. Even though I'd say that you would probably have to understand the language to fully appreciate it, it's still definitely worth a listen.
This is their 4th release, 3rd in cassete format, and it's probably my favorite.
Download (Mediafire)
Jedinstvo, prijateljstvo, snaga.