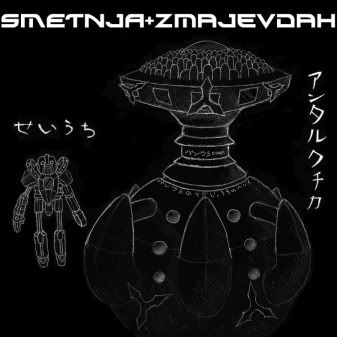 Tracklist:
Smetnja
01. Seiuchi Warmaster Dušan
02. Penguins Are Not For Politics
03. Dada Submarine
04. Blue Whale Sonic Destruction
Zmajevdah
05. Happy Shipyard
06. So Beautiful
07. Sea of Eden
08. Antarctica
09. Our Planet's Dream
10. Neon Sea
11. Polarity
12. Love Factory
Total playing time 57:56
So I figured since it's my blog I might as well post my own stuff, hah!
C/P from
myspace
:
Mr.
Smetnja
and I decided to do another split release, and obviously that's what we did. It's free for download at a pretty cool extreme and experimental music netlabel -
Sounds Abound
.
What can I say about my side?
Well, it's pretty inconsistent and I don't know if that's good or bad. Happy Shipyard could be called noise, Antarctica grindcore, Sea of Eden post-rock, Neon Sea kinda tech-death / post-metal or something... You get my point. My future music will probably be most similar to Antarctica when compared with the other songs.
I drew the artwork again and I quite like how it turned out in the end. There are 3 pics with the audio: the front cover, the liner notes, and the tracklist. The liner notes consist of contact info and 2 songs/poems by Smetnja and myself - Smetnja's thing is simply his thing, and my part includes the lyrics to the actual song, Antarctica.
It's pretty long too, almost an hour with each side being a little less than 30min. The rar filesize is 102mb at 256kbps mp3 quality. Download it at the
Sounds Abound
myspace page, release SA21.
That's about it. We both appreciate feedback, of course. ;)